Hey guys, this is my guide to power-mining iron ore at Varrock East mine.
Requirements:
- 15 Mining
- A pickaxe
Recommended:
- 41+ Mining
- Rune Pickaxe
- Weight-Reducing Equipment
Varrock East mine is located towards the South-East of Varrock City.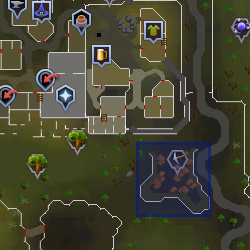 This mine contains:
9 Copper rocks
6 Tin rocks
4 Iron rocks
Of course only the iron rocks concern you.
What to bring:
You could possibly bring Penance Gloves, Agile Top and Agility Legs if you wish, but it's really not necessary. The gear that I've listen there isn't actually needed, the weight reduction hardly helps if you're power-mining. You could bring other armour if you wish, but this may help if you really plan on banking.
What to do:
The first rock you're going to want to mine is this:
Then you're going to want to mine this one:
Now move onto the final one:
Repeat this until you have a full inventory.
You don't want to mine the fourth rock, as it will be a waste of time running round there.
When you are on your penultimate slot, click the first rock again and then right as you mine it, click 'Drop.' Drop the first three ores in the first column.
Repeat all the steps above.
Apparently this method works out to about 30k/hr - 40k/hr however I have not done the calculation myself.
Credits:
Bai
RuneScape Wiki for a picture:
Enjoy.